psychology (personal) = the emotional and behavioral characteristics of an individual, a group, or an activity; Subtle tactical actions or arguments used to manipulate or influence another.

Our minds, do not have a psychology of their 

own

. 
The 

personal

 psychology of each individual or group must be developed!
This is accomplished though events, information, opinions, actions of others, a deliberate plan, or a combination of all those, and this psychology becomes the controlling factor of our minds. As we have examined this subject of mind control, our concentration has been of the vast subject of spiritual maturity.In the human realm, we know it's dangerous to give an immature person the control of an airplane, a car, an organization, etc. Therefore, we are careful not to allow a person with lack of experience or one who is immature to have the control of areas that can bring harm to themselves and others. Sadly, we are not so careful when it comes to the area of spiritual direction. This is more than true in the Christian church. It is also true in the Christian home, with tragic results. Many Christian parents are out to lunch when it come to training themselves and their children in this area of spiritual maturity.
We have looked at 5 areas that are a must if we are to know spiritual maturity:
spiritual

understanding

and

comprehension

(facts & their relationship to God's Eternal Plan)
spiritual

discernment (

good vs. bad – good vs. better)
spiritual

perseverance

(sticktuitiveness)
spiritual

humility

(seeing ourselves as God sees us)
spiritual

responsibility

and

commitment
In the process of spiritual maturity, each of these areas could be subdivided many times, but for this series, we can only look at the surface.In today's lesson, I would like to examine and visually see how a person can have the mind of Christ, have the mind-set of Christ and how both of these can become the main stay of our daily living, as we strive to become spiritually responsible and committed.
To do this in one lesson, I will refer to information about the human soul taught is previous studies. Also in this lesson, I would like us to see what can happen when we have a pseudo mind set of Christ. We will see this pseudo mind set demonstrated in the Biblical story of Palm Sunday. By the way, the type of response seen the in the followers of Christ on Palm Sunday, can and will be duplicated in the lives of many Christians who have developed a pseudo mind set of Christ.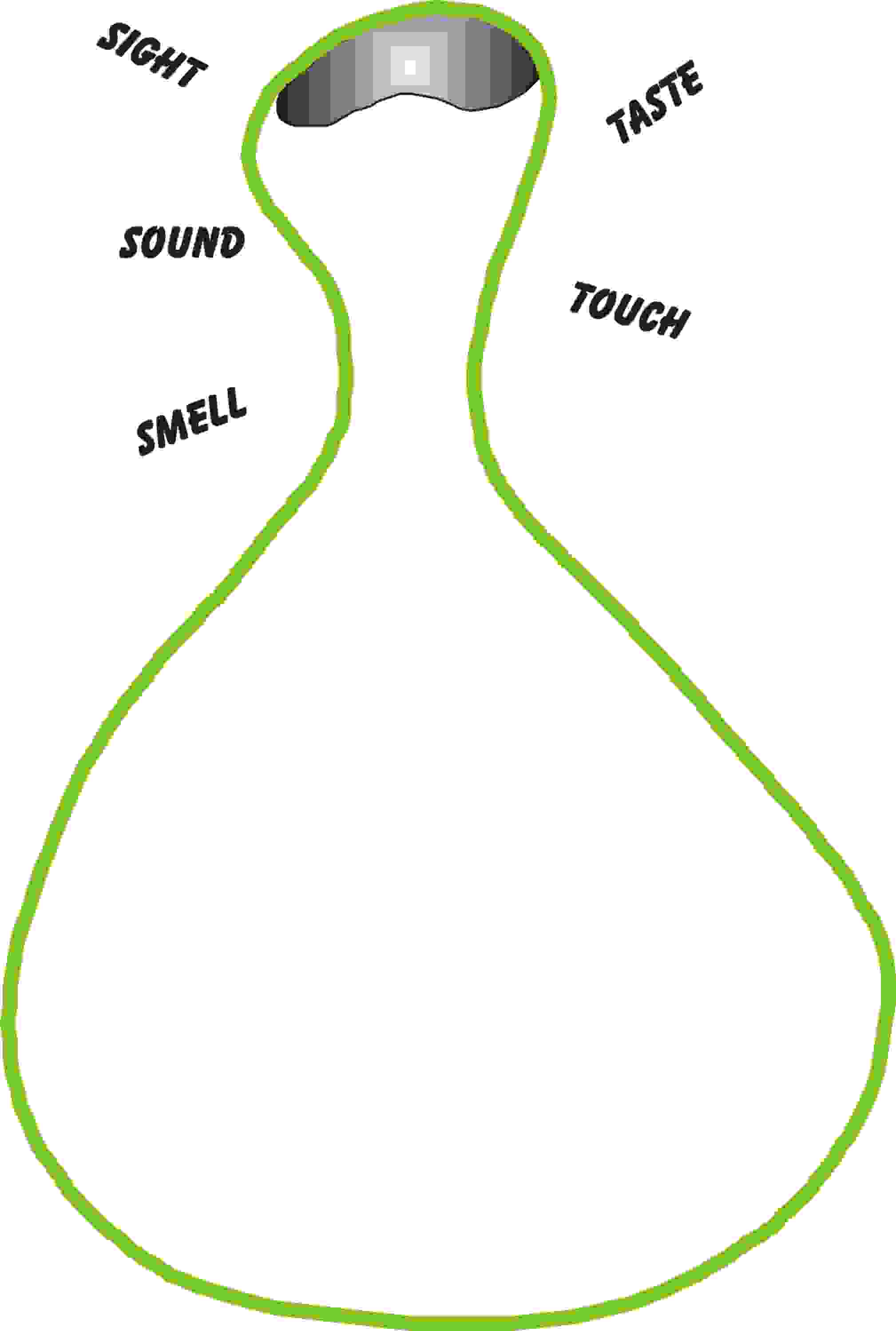 From the hand of God, at creation, came a human body formed from the dust of the earth. This human body was a marvel of marvels and God said it was good. That human body had chemical life. In many ways, this chemical life was similar to that of the other created earthly creatures, yet very different. Pardon my lack of artistic ability, but none the less, the outline of this strange figure represents the human body. Later, in this lesson, I will put some stuff inside that strange looking body. The first body, created by the hand of God for Adam, had all the features and possibly many more than our present physical bodies. That body had perfect sight, hearing, smelling, tasting and touching. As good as that first body was, the first physical body was made of earthly material and would eventually deteriorate.
2 Corinthians 5:4-5 For we who are in this tent [temporary dwelling] groan, being burdened, not because we want to be unclothed, but further clothed, that mortality [death] may be swallowed up by life. 5 Now

He who has prepared

us for this very thing is God, who also has given us the Spirit as a guarantee.
The formation of a human body that would eventually succumb to mortality was not a sadistic act of God. It was always God's desire for mankind to become like God and to live in that state forever.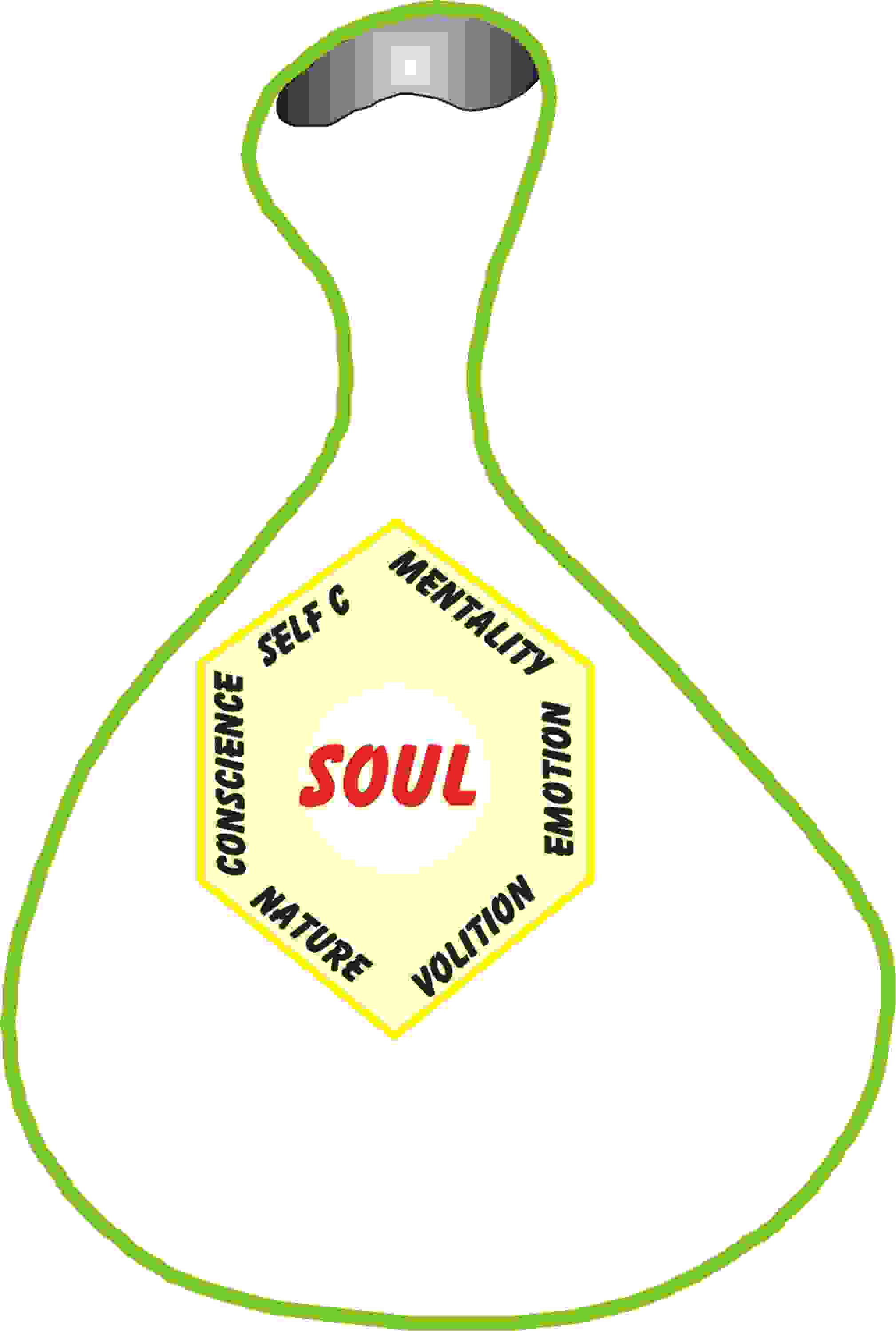 That fact is seen in God's breathing into that body an eternal soul. God didn't make a mistake in His planning. He wouldn't put an eternal soul in a temporary body, unless He had a plan for mankind to have an eternal body. That truth is also seen in the fact that Adam and Eve could have eaten of the Tree of Life, before their sin, and lived forever in that state. However, after their sin, God barred them from the Tree of Life lest they would eat of it and live forever in their fallen state.
Genesis 3:22-24 Then the LORD God said, "Behold, the man has become like one of Us, to know good and evil. And now,

lest

he put out his hand and take also of the tree of life, and eat, and

live forever"

-- 23 therefore the LORD God sent him out of the garden of Eden to till the ground from which he was taken. 24 So He drove out the man; and He placed cherubim at the east of the garden of Eden, and a flaming sword which turned every way,

to guard the way to the tree of life.
Obviously, the fruit from the Tree of Life had spiritual qualities and that fruit also gave length of physical life, or possibly endless physical life. These are interesting subjects and throughout the Word of God, we find great insights into these matters. However, our brief time needs to be spent on other important areas. It is the eternal soul, given by God, that is the subject of today's study. We want to very briefly see some of the effects of spiritual maturity on three aspects of the soul – mentality, volition and conscience.
In reality, spiritual maturity has an effect on all aspects of the soul. However, for this lesson, we want to observe some of its effect on these three areas. We have the same soul or same type of soul as the first Adam. However, our souls have baggage that Adam's didn't. When Adam sinned, he fell from the spiritual state in which God placed him at creation. In this fallen state, Adam could only think as a physical person. Therefore, we call his nature simply human. As humans, depraved of any spiritual life, Adam and Eve's purpose for living was very similar to any other created being. They lived for food, fun and fellowship.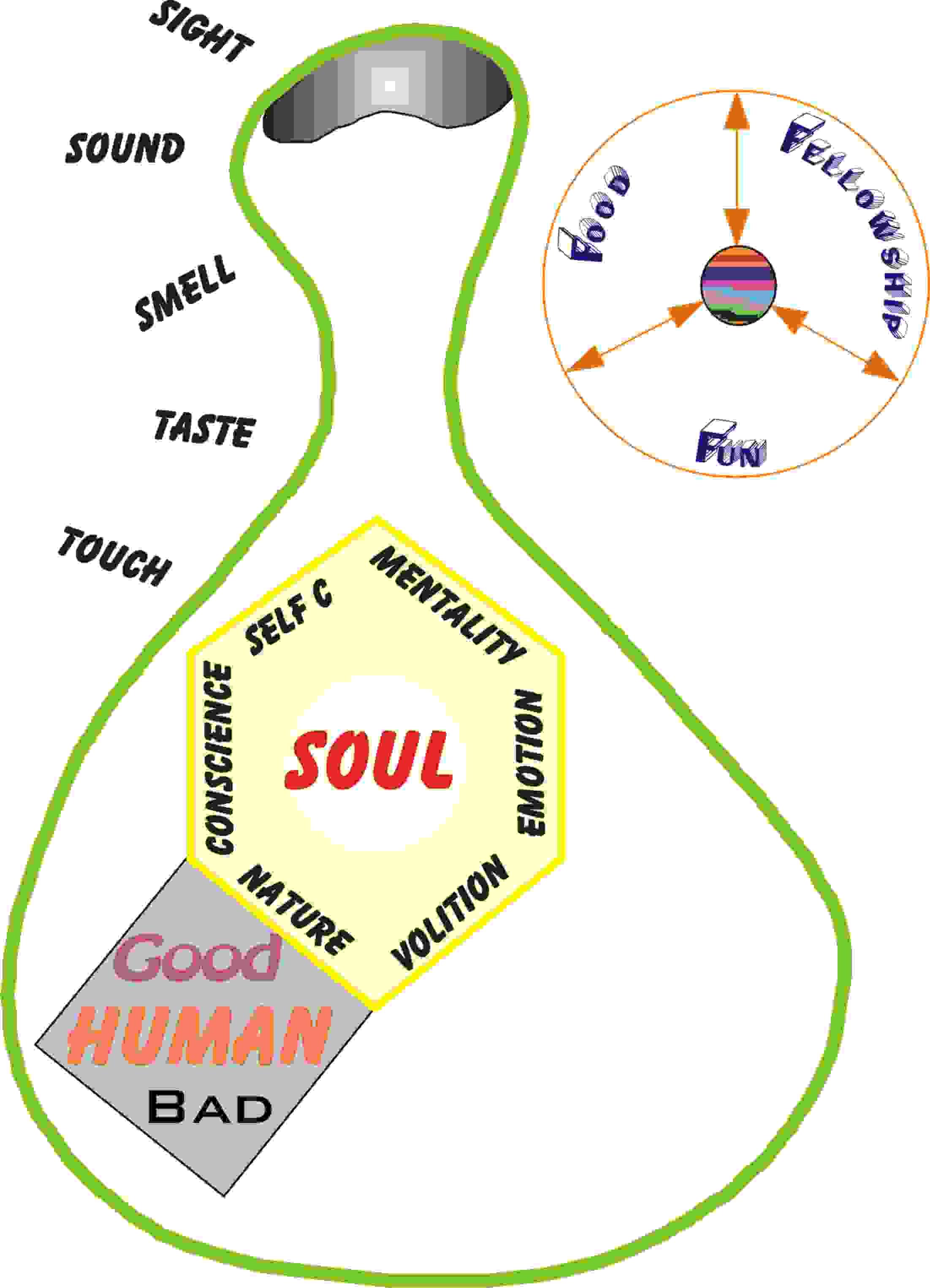 After the fall, all information received by the 5 senses was filtered through the human nature, which we often refer to as the Old Sin Nature or OSN. The Scriptures contain scads of information about these things. It would be interesting and helpful to look at the many references and study them in detail. Today, we'll skim just the surface of this information. I will give some references without extensive comment so you can use them in your future study. The human nature cannot think, understand or perceive spiritual truth, even though the human nature can know biblical facts.
1 Corinthians 2:10-16 But God has revealed them to us through His Spirit. For the Spirit searches all things, yes, the deep things of God. 11 For what man knows the things of a man except the spirit of the man which is in him? Even so

no one knows

the things of God except the Spirit of God. 12 Now we have received, not the spirit of the world, but the Spirit who is from God, that we might know the things that have been freely given to us by God. 13 These things we also speak,

not in words which man's wisdom

teaches but which the Holy Spirit teaches, comparing spiritual things with spiritual. 14 But the natural man

does not receive

the things of the Spirit of God, for they are foolishness to him;

nor can he know

them, because they are spiritually discerned. 15 But he who is spiritual judges all things, yet he himself is rightly judged by no one. 16 For "Who has known the mind of the Lord that he may instruct Him?"

But we have the mind of Christ.
Even though the human nature cannot comprehend real spiritual truth, the human nature has great potential and power in the physical and spirit realms, even to being able to counterfeit spiritual actions.
2 Corinthians 11:13-15 For such are false apostles, deceitful workers,

transforming

themselves into

apostles of Christ

.

14 And no wonder! For Satan himself

transforms

himself into an

angel of light

.

15 Therefore it is no great thing if his ministers also

transform

themselves into

ministers of righteousness,

whose end will be according to their works.
The motive of the old sin nature [OSN] is one thing and one thing only -- me, my and mine. Sometimes the OSN will motivate us to do good things so me, my and mine can find some satisfaction through self-righteousness. Other times, the OSN will motivate to do the worst things possible so as to satisfy that same selfish motive through immorality. We can see this self-centered motive very easily when we look at others. However, if we strip aside our self-righteousness and look honestly at ourselves, we can see that fallen nature at work in our lives, also. God so loved the human race that He provided a means by which we can once again fellowship with Him, have a godly mind-set and grow into the full stature and measure of Christ.
Ephesians 4:11-15 And He Himself gave some to be apostles, some prophets, some evangelists, and some pastors and teachers, 12 for the equipping of the saints for the work of ministry, for the edifying of the body of Christ, 13 till we all come to the unity of the faith and the knowledge of the Son of God, to a perfect man, to the

measure of the stature of the fullness of Christ;

14 that we should no longer be children, tossed to and fro and carried about with every wind of doctrine, by the trickery of men, in the cunning craftiness by which they lie in wait to deceive, 15 but, speaking the truth in love, may grow up in all things into Him who is the head -- Christ --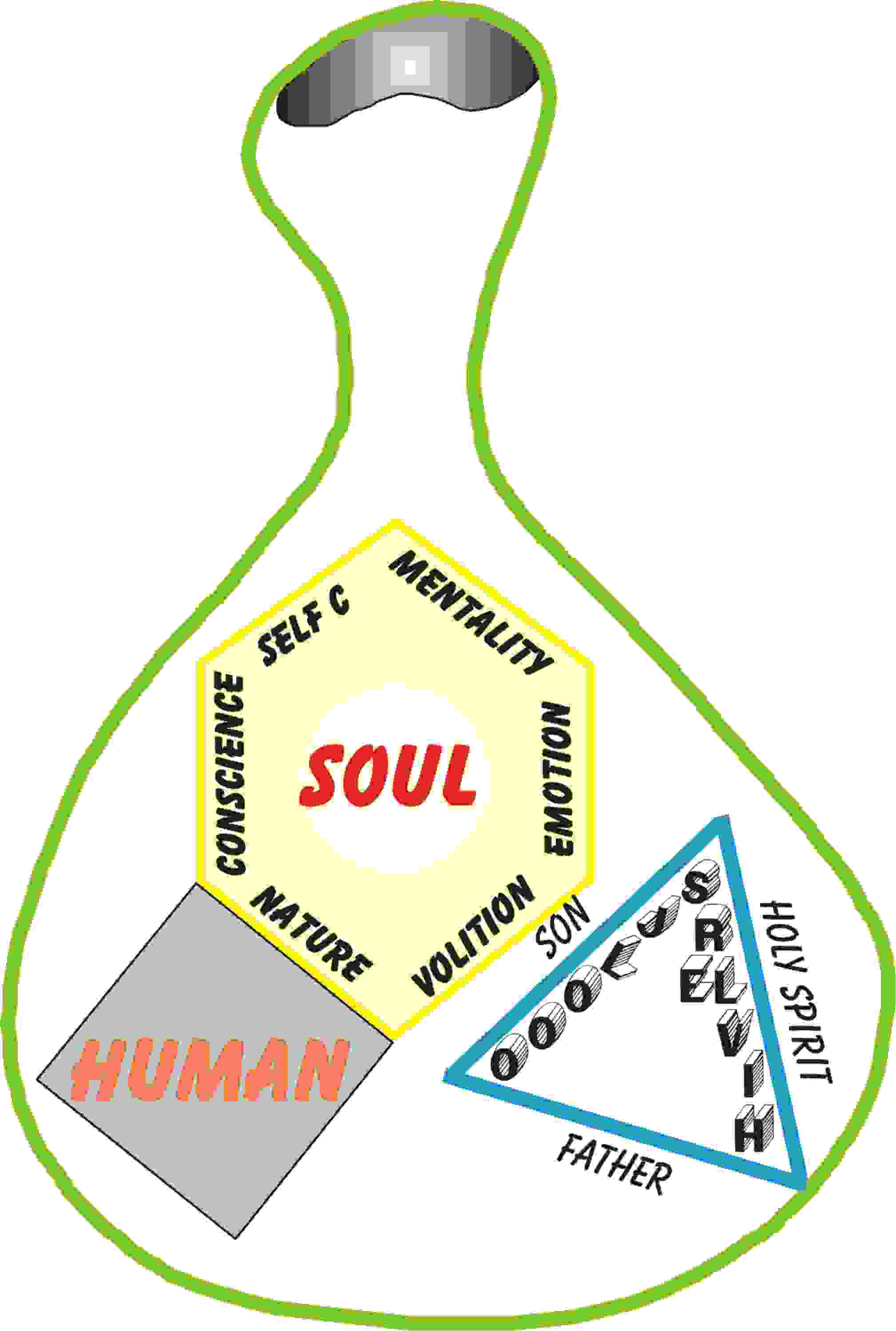 Through the life, death and resurrection of Christ, God provided an eternal and spiritual gift for everyone who will receive Christ as their personal Savior. The Gift of God is called Eternal Life, or the very life of God. When we receive the life of God through the New Birth, the Godhead comes to live in our lives. The Third Person of the Trinity, the Holy Spirit, is in a special way the agent of the Godhead in our lives, at this time. Before the New Birth, a person can only think in human or earthly terms. Sometimes those thoughts and actions are moral and sometime they are without a hint of morality.
With the indwelling Holy Spirit, we are freed from the bondage and total commitment to the OSN. This freedom from the bondage of the OSN in no way indicates that we no longer have an OSN or that we can do as we please. It means that now we can either filter our thoughts through the OSN or we can choose to filter our thoughts through the Holy Spirit, who is referred to as the mind of Christ.
Romans 7:15-20 For what

I am doing,

I do not understand. For what I will to do, that

I do not practice;

but what I hate, that I do. 16 If, then, I do what I will not to do, I agree with the law that it is good. 17 But now, it is no longer I who do it,

but sin that dwells in me.

18 For I know that in me (that is, in my flesh)

nothing good dwells;

for to will is present with me, but how to perform what is good I do not find. 19 For the good that I will to do, I do not do; but the evil I will not to do, that I practice. 20 Now if I do what I will not to do, it is no longer I who do it,

but sin that dwells in me.
Galatians 2:20 I have been crucified with Christ; it is

no longer

I who live, but

Christ lives in me;

and the life which I now live in the flesh

I live by faith

in the Son of God, who loved me and gave Himself for me.
Just because we have God living within our lives, does not mean that our actions will always be spiritual in quality. Notice that Paul says the life of spirituality is lived by faith in the Son of God. We know from passages like Hebrews 11 that faith is not static. Faith is action, action based on the foundation of God's Person and God's Word.
Hebrews 11:1-3 Now faith

is

the

substance

of things hoped for, the

evidence

of things not seen. 2 For by it the elders obtained a good testimony. 3 By faith we understand that the worlds were framed by the word of God, so that the things which are seen were not made of things which are visible.
substance = (Greek) confidence based on that which supports from under; something that has mass and occupies space
evidence = (Greek) proof through the reproof of testing for reality; a thing or things helpful in forming a conclusion or judgment
No, faith is not some nebulous feeling that is all fuzzy without defined form or limits. Faith is confident actions based on who God is and what God has said.

Therefore, what we do is the proof

 

of what we believe.
If we are truly living by faith, we will do what the Word of God says and we will not do what is forbidden by the Word.
If we are truly living by faith, we will:
constantly strive to have the mind set of Christ
put away lying, hypocrisy, etc.
not promote self and family above others
have a servant's heart and attitude
repent when we fail in these and other areas
etc.
Look how the Holy Spirit describes faith in the lives of the Faith Greats of Hebrews 11.
Hebrews 11:7-9 By

faith

Noah, being divinely warned of things not yet seen, moved with godly fear,

prepared

an ark for the saving of his household, by which he condemned the world and became heir of the righteousness which is according to faith. 8 By

faith

Abraham obeyed when he was called

to go out

to the place which he would afterward receive as an inheritance. And he went out, not knowing where he was going. 9 By

faith

he

sojourned in the land of promise as in a foreign country, dwelling in tents with Isaac and Jacob, the heirs with him of the same promise;
God has not told us to build an Ark or go to a land that He will show us. However, God has told us, just as clearly, to do certain things that will result in spiritual maturity. By the way, doing what God commands is not legalism, it is obedience! We've spent 9 lessons looking at a few of those clear directives given by God. We have summarized this vast subject into 5 traits.
spiritual

understanding

and c

omprehension

spiritual

discernment

spiritual

perseverance

spiritual

humility

spiritual r

esponsibility

and

commitment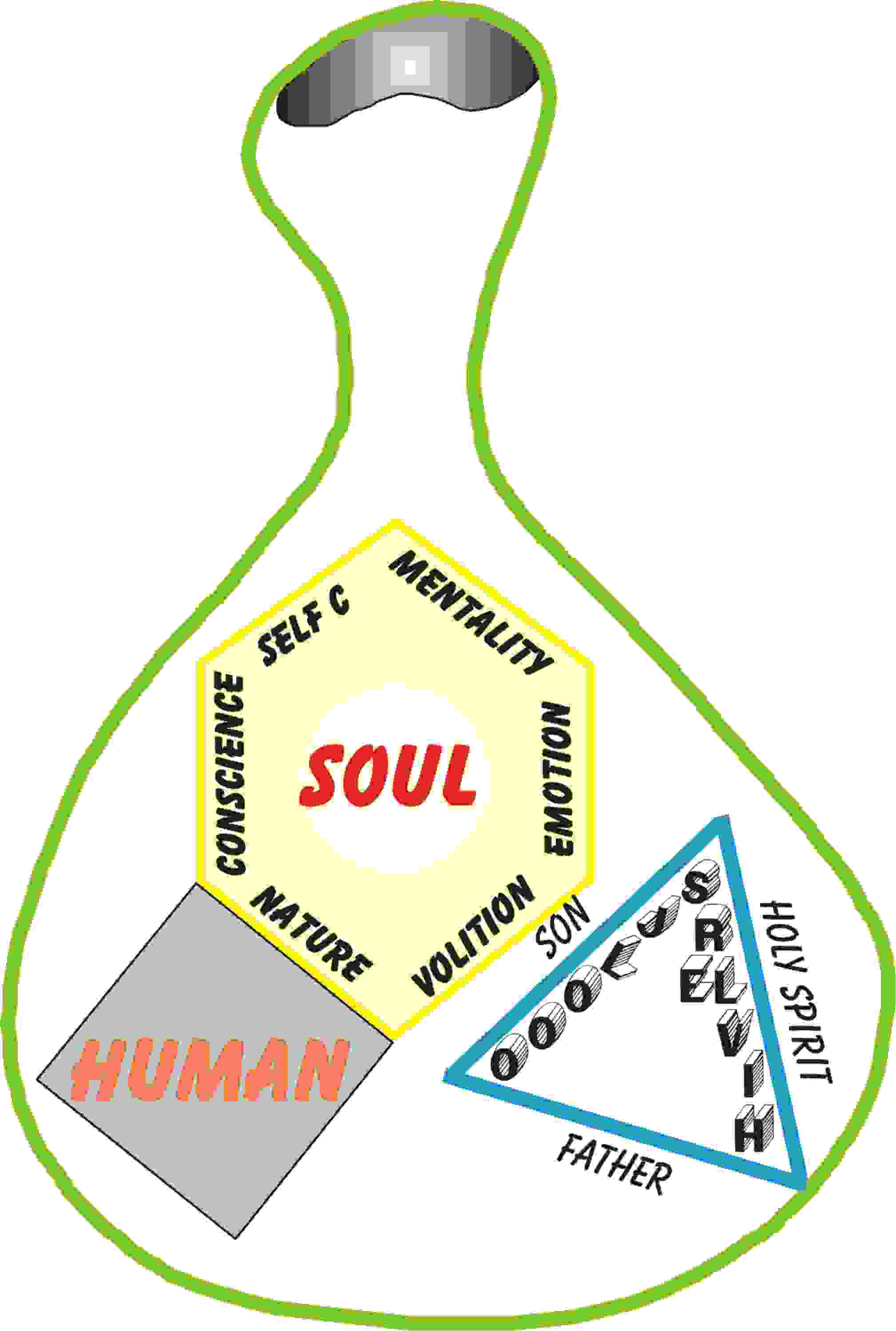 We are told to develop these traits. By continually developing these traits, we generate habits that become part of the make-up of our soul. These do not come as part of the salvation package. Instead, we are to develop these things by a conscious deliberate plan of living, after we are Born Again. We must study and meditate on the Word of God. Then we must prepare a plan to make this spiritual maturity package a part of: first of all our thinking; then as the guiding principle of our actions. When we do so, our mentality will be filled and influenced by this expectation of spiritual reality [walking in the Spirit Romans 8]. Each of us must prepare a plan of action in order to continue this growth in spiritual maturity. Each Believer needs to prepare the plan based on his/her biblical knowledge and experience, at the time. The plan must continually change as we grow in grace and the knowledge of God and His Word.
There is no cut 'n dried formula for this continued growth. As a matter of fact, trying to follow a set plan for spiritual maturity can, and often does lead to the worst type of legalism. Look what the Apostle Paul said on this matter in
Philippians 3:13-19 Brethren, I count not myself to

have

apprehended: but this

one thing

I do,

forgetting

those things which are behind, and reaching forth unto those things which are before, 14 I

press

toward the mark for the prize of the high calling of God in Christ Jesus. 15 Let us therefore, as many as be perfect, be thus minded: and if in any thing ye be otherwise minded, God shall reveal even this unto you. 16 Nevertheless,

whereto we

have already

attained,

let us walk

by the same rule,

let us mind the same thing. 17 Brethren, be followers together of me, and mark them which walk so as ye have us

for an ensample.

18 (For many walk, of whom I have told you often, and now tell you even weeping, that they are the enemies of the cross of Christ: 19 Whose end is destruction, whose God is their belly, and whose glory is in their shame, who mind earthly things.)
Each time, before we act, we must use our mentality to think on and associate the reality of the spiritual maturity package to the actions we are about to execute. This must be true, whether those actions involve our voice, our body or our thoughts. When we determine to deliberately think on these things before we act, it will make a big difference in our choices through our volition, and it will begin to establish a pattern that will become part of our conscience. It is important that we think proper thoughts before we act. I realize that such a pattern goes contrary to our western way of living. We can't stand a moment of silence. Therefore, we speak and act before the truths of the Word of God can be brought back to our minds by the Holy Spirit.
Proverbs 10:17-21 He who

keeps

instruction is in the way of life, but he who

refuses

reproof goes astray. 18 Whoever

hides

hatred

has

lying lips, and whoever spreads slander is a fool. 19 In the

multitude

of words

sin is not lacking,

but he who

restrains

his lips is wise. 20 The tongue of the righteous

is choice silver;

the heart of the wicked is worth little. 21 The lips of the righteous feed many, but fools die for lack of wisdom.
How we think and act is a matter of choice. A choice deliberately made over and over again until it becomes a part of our thinking, actions, living and conscience.Once again, how we think and act is a matter of choice. That is true of proper biblical living, pseudo biblical living or demonic living. We can choose to be a phony or we can choose to be a spiritual christian. As a matter of fact…

If we don't choose to live and act as a true Christian we will automatically live   
either as a phony Christian or a debauched nonbeliever who is controlled by doctrines of demons
Philippians 4:8-9 Finally, brethren,

whatever

things are true,

whatever

things are noble,

whatever

things are just,

whatever

things are pure,

whatever

things are lovely,

whatever

things are of good report, if there is any virtue and if there is anything praiseworthy --

meditate on these things.

9 The things which you learned and received and heard and saw in me, these do, and the God of peace will be with you.
Please note. These are choices we make. We don't pray to get these, we don't go to church to receive these. Hopefully, while we are choosing to do these, we will be in prayer and showing up to church regularly, or at least once in a while. Growing up or maturing in Christ is a choice. Granted, we must have biblical knowledge, be led by the Spirit, etc. However, you don't have to go to Bible School to make Philippians 4:8-9 a reality in your life. Far too long, Christians have waited for the God of Peace to be with them or they have tried to work themselves up into an emotional state, so that the God of Peace will be with them or they have looked for a counselor who will guide them so the God of Peace will be with them, etc. However, if God knows what He is talking about and I believe He does, if we meditate on the things of God's Word and do the things learned and received from the writing of Paul and other Biblical authors, the God of Peace will be with us. Philippians 4:8-9 .
Please look at the definition of meditate.
meditate = (Greek) to take careful inventory by a deliberate calculation, then make these the subject of thoughtful consideration by carefully reflecting on them
Boy, if we make that a practice of life, it will save most of us from running around with both feet in our mouths. Plus, it will make us very pleasant and productive Christians. Maybe we won't be quite as flamboyant as before, but we will be more pleasing to our Lord and Savior.
Yes, true Christian living is constantly choosing a plan of living that is much different than the normal human plan of living. The normal human plan of living is motivated by the OSN, and has one and only one ultimate purpose -- me, my and mine.
Matthew 20:25-28 But Jesus called them [disciples] to Himself and said, "You know that the rulers of the Gentiles

lord it over

them, and those who are great exercise

authority over

them. 26

"Yet it shall not be so among you;

but whoever

desires

to become

great

among you, let him be your

servant

. 27 "And whoever

desires

to be

first

among you, let him be your

slave

-- 28 "just as the Son of Man did not come to be served, but to serve, and to give His life a ransom for many."

This is our responsibility and with responsibility comes commitment
This attitude and action is the ultimate of christian maturity. If we push or promote ourselves, our spouses or our children so we or they gain the preeminence over others, we have failed in all aspects of spiritual maturity, and are being conformed to the system of the world. Some might say, "I'm not going to teach my children to be spiritually humble and take the lower seat! Not on your life! I want them right up front 'n center above all others." Those may not be your exact words, but is that your attitude? If you don't teach your children now to be servants, when will they learn to do so and thereby follow in the steps and example of our Lord? You might start by being the example of a servant, yourself.

This is a spiritual principle that is caught much faster than it is taught
Let's step back in the context of this passage and see what it was that precipitated this declaration of spiritual maturity by Christ.
Matthew 20:20-24 Then the

mother

of Zebedee's sons came to Him with her sons, kneeling down and asking something from Him. 21 And He said to her, "What do you wish?" She said to Him,

"Grant that these two sons of mine may sit,

one on Your right hand and the other on the left, in Your kingdom." 22 But Jesus answered and said, "You do not know what you ask. Are you able to drink the cup that I am about to drink, and be baptized with the baptism that I am baptized with?" They said to Him, "We are able." 23 So He said to them, "You will indeed drink My cup, and be baptized with the baptism that I am baptized with; but to sit on My right hand and on My left is not Mine to give, but it is for those for whom it is prepared by My Father." 24 And

when the ten heard it,

they were moved with indignation against the two brothers.
There it is! The very heart of the worldly system at work. On the surface, it looked like such a spiritual thing. To sit on the right or left of Christ and help Him rule. How much more spiritual can you get? Well, there is at least one more thing you can do to become spiritual –

Become a servant (Matt 20:20-28)
Becoming a servant is also a choice. Once you have mastered the hardest job of all – being a servant – then you may be trusted by God with a leadership role. Let's see an example of the spiritual standard by which many Christians live and strive to obtain recognition. Let's see if there is a lesson to be learned in the story of Palm Sunday. On the surface, the events of Palm Sunday looked so good. Those events looked like many of our church and personal religious activities of today. Most people following Jesus on Palm Sunday had sacrificed a great deal to be there. Many of these people had left home and business to travel to Jerusalem to participate in a very deeply religious event. They were sincere! They were dedicated! They were religiously pious! These were probably far above most of us, in these areas. They were here because of the truths taught in the Old Testament. Most were very good people, doing a very good thing in fulfilling the instructions of their faith.

What 

more

 could you ask?
When these people heard that Jesus of Nazareth might be the Messiah, promised by God to Israel, they immediately left their activities and followed Him, declaring Him to be their King. In so doing, they put their own lives in jeopardy with Rome. They had religious fervor and zeal like very few of their time or since that time. This was a high and holy event. They were going to march with Christ into Jerusalem, make Him king and pay allegiance to Him. They demonstrated all the signs of religious fervor. They were shouting praises to Christ, waving palm branches and even giving of their clothes so Christ could ride on the road as a king. They literally gave the shirts off their backs. They wanted Christ to be king.
I'm quite sure they really meant it! But like so many of us, they wanted Christ to be king of their lives on their terms and for their personal benefit. Much like the mother of James and John from our passage in Matthew, they were interested in having prominence, personal comfort and to be more important than those of Rome. Let's not question their sincerity, nor their willing sacrifice, unless our actions exceed theirs. However, they missed the teaching of Scripture that stated before Christ could be king, He would be sacrificed on the cross. They missed the part of the plan of God that said before they would rule the world with Christ, they would have to suffer and be rejected by the world. They, like many modern Believers, they wanted the crown before the cross. They wanted the glory before obedience. They wanted righteousness before repentance.

In general, their religious worship and fervor was 

self-

centered, instead of 

God-

centered.
On Palm Sunday they sang out, and possibly with absolute sincerity, "Hosanna to the Son of David! 'Blessed is He who comes in the name of the Lord!' Hosanna in the highest!" But less that a week later, they cried out "Crucify Him! Crucify Him! We will not have this man rule over us!" They were just as religiously sincere when they cried out "Crucify Him!" as they were when they chanted "Hosanna to the Son of David! 'Blessed is He who comes in the name of the Lord!' Hosanna in the highest!". They also felt that they were as justified in their pronouncement of death as they were in their proclamation of kingship.

What made the difference? Perspective.
Perspective comes through personal discipline based on knowledge.
In the 50+ years of ministry, I've seen this turn-a-round of allegiance so many times that I can't count them. They had been taught and they thought within their Mentality that the coming of the Messiah was for the purpose of freedom from political oppression and to bring personal comfort. Political freedom and personal comfort were only part of the ultimate purpose of God coming as Messiah. There was much more to the coming of Messiah, puls the sequence of God's plan was not the same as their personal desires. When it was evident that Jesus was not going to bring immediate freedom to them, their consciences was so disturbed that they were sure this man, Jesus, was a fraud and therefore deserved to die. At that moment, they made the choice to turn from following Jesus and turn against Him, and they did it with great religious justification.It is important to know the whole plan of God, not just the parts that appeal to our selfish desires for prominence and comfort. It is easy to be religiously passionate one day for a cause and days later to be just as religiously passionate for the destruction of the same cause.

The difference is perspective!
May we learn a lesson from those good religious people on that first Palm Sunday and realize that God has a greater plan than simply our physical well being and comfort. We need to understand that within God's plan, we are in a war. This war is the Conflict of the Ages. This war is not about conquest of lands and kingdoms but about the conquest of minds and therefore lives. The first life that must be conquered is your personal life. That conquest is a war like no other. God has provided all we need to win this war, and win we must.
If we are to win, then we must fight according to war plans laid out by God in His Word.
1 Timothy 6:312 If anyone teaches otherwise and does not consent to wholesome words, even the words of our Lord Jesus Christ, and to the doctrine which is according to godliness, 4 he is proud, knowing nothing, but is obsessed with disputes and arguments over words, from which come envy, strife, reviling, evil suspicions, 5 useless wranglings of men of corrupt minds and destitute of the truth, who suppose that godliness is a means of gain. From such withdraw yourself. 6 But godliness with contentment is great gain. 7 For we brought nothing into this world, and it is certain we can carry nothing out. 8 And having food and clothing, with these

we shall be content.

9 But those who desire to be rich fall into temptation and a snare, and into many foolish and harmful lusts which drown men in destruction and perdition. 10 For the love of money is a root of all kinds of evil, for which some have strayed from the faith in their greediness, and pierced themselves through with many sorrows. 11 But you, O man of God, flee these things and pursue righteousness, godliness, faith, love, patience, gentleness. 12

Fight the good fight of faith,

lay hold on eternal life, to which you were also called and have confessed the good confession in the presence of many witnesses.
2 Timothy 4:1-8 I charge you therefore before God and the Lord Jesus Christ, who will judge the living and the dead at His appearing and His kingdom: 2

Preach the word!

Be ready in season and out of season. Convince, rebuke, exhort, with all longsuffering and teaching. 3 For the time will come when they will not endure sound doctrine, but according to their own desires, because they have itching ears, they will heap up for themselves teachers; 4 and they will turn their ears away from the truth, and be turned aside to fables. 5 But you be watchful in all things, endure afflictions, do the work of an evangelist, fulfill your ministry. 6 For I am already being poured out as a drink offering, and the time of my departure is at hand.

7

I have fought the good fight, I have finished the race, I have kept the faith.

8 Finally, there is laid up for me the crown of righteousness, which the Lord, the righteous Judge, will give to me on that Day, and not to me only but also to all who have loved His appearing.
2 Corinthians 10:3-6 For though we walk in the flesh,

we do not war

according to the flesh. 4 For the

weapons of our warfare

are not carnal but mighty in God for pulling down strongholds, 5 casting down arguments and every high thing that exalts itself against the

knowledge

of God, bringing every

thought

into captivity to the obedience of Christ, 6 and being ready to

punish all disobedience

when your obedience is fulfilled.