Review & Recap
We are taking an abbreviated look at the sovereignty of God as part of our study on the believer's conduct in holiness. We are looking at sovereignty because the Scriptures tell us that Satan is allowed certain freedom of activities, and some of those activities involve believers.
We also saw that mankind has limited freedom to accept or reject God's will. Many of mankind's decisions to reject God's will are influenced directly or indirectly by Satan. Therefore the question becomes, "If God is sovereign, how can Satan or mankind have the power to reject God's will?"
In our study, we saw that God is absolutely sovereign! Because God is sovereign, He acted within His sovereignty and chose to allow actions that to the human rationale, would not fit in the scheme of human logic. For God to make such a choice is clearly within the realm of His sovereignty. We looked at passage after passage declaring this very fact.
Isaiah 55:8-9 For My thoughts are not your thoughts, nor are your ways My ways," says the Lord. 9 "For as the heavens are higher than the earth, so are My ways higher than your ways, and My thoughts than your thoughts.
Job 9:10 He does great things past finding out, yes, wonders without number.
Romans 11:33 Oh, the depth of the riches both of the wisdom and knowledge of God! How unsearchable are His judgments and His ways past finding out!
Job 26:14 indeed these are the mere edges of His ways, and how small a whisper we hear of Him! But the thunder of His power who can understand?
Ecclesiastes 3:11 He has made everything beautiful in its time. Also He has put eternity in their hearts (souls), except that no one can find out the work that God does from beginning to end.
These are just a few of the many passages we looked at in this study, and they represent only a small portion of such declarations and teachings throughout the Scriptures.
We also saw that Satan can have a great deal of control or influence over believers in their daily living. This often takes place without the believer being aware of such control. As a matter of fact, many are the times when believers, under the control of Satan, feel they are doing a godly service.
2 Corinthians 11:13-15 For such are false apostles, deceitful workers, transforming themselves into apostles of Christ. 14 And no wonder! For Satan himself transforms himself into an angel of light. 15 Therefore it is no great thing if his ministers also transform themselves into ministers of righteousness, whose end will be according to their works.
2 Timothy 3:2-8 For men will be lovers of themselves, lovers of money, boasters, proud, blasphemers, disobedient to parents, unthankful, unholy, 3 unloving, unforgiving, slanderers, without self-control, brutal, despisers of good, 4 traitors, headstrong, haughty, lovers of pleasure rather than lovers of God, 5 having a form of godliness but denying its power. And from such people turn away! 6 For of this sort are those who creep into households and make captives of gullible women loaded down with sins, led away by various lusts, 7 always learning and never able to come to the knowledge of the truth. 8 Now as Jannes and Jambres resisted Moses, so do these also resist the truth: men of corrupt minds, disapproved concerning the faith;
Withstanding the Enemy
That scanty review brings us to the subject of our present study. Since Satan has the right to interfere and even control the lives of some believers, how can we equip ourselves to withstand these devices of Satan?
2 Corinthians 2:10-11 Now whom you forgive anything, I also forgive. For if indeed I have forgiven anything, I have forgiven that one for your sakes in the presence of Christ, 11 lest Satan should take advantage of us; for we are not ignorant of his devices.
How to overcome these devious schemes of Satan, the flesh, and the world, is a large portion of the teaching of the New Testament. Our purpose in this series was not to make a detailed study of the whole New Testament.
Instead, we wanted to see how we can be aware of these devices of Satan, and not be caught off guard or ignorant of Satan's attempts to control our lives and manner of living. Not only do we not want to be blind-sided by Satan, we want to make sure that we do not become a tool in the hand of Satan to accomplish his work. Especially while doing so in the name of godliness.
In our study, we found two major factors that are needed if we want to be aware of Satan's attempts to overtake us:
Walk in the Spirit
The Word of God rightly divided, compared, harmonized and taught by the Holy Spirit.
These factors are also the two main tools available to the believer as a defense against Satan. These same tools enable us to overcome Satan and his attacks.
Galatians 5:14-17 For all the law is fulfilled in one word, even in this: "You shall love your neighbor as yourself." 15 But if you bite and devour one another, beware lest you be consumed by one another! 16 I say then: Walk in the Spirit, and you shall not fulfill the lust of the flesh. 17 For the flesh lusts against the Spirit, and the Spirit against the flesh; and these are contrary to one another, so that you do not do the things that you wish.
2 Peter 1:2-6 Grace and peace be multiplied to you in the knowledge of God and of Jesus our Lord, 3 as His divine power has given to us all things that pertain to life and godliness, through the knowledge of Him who called us by glory and virtue, 4 by which have been given to us exceedingly great and precious promises, that through these you may be partakers of the divine nature, having escaped the corruption that is in the world through lust. 5 But also for this very reason, giving all diligence, add to your faith virtue, to virtue knowledge, 6 to knowledge self-control, to self-control perseverance, to perseverance godliness,
Both of these areas of defense involve the knowledge of and obedience to the Word of God.
Putting the Word Into Practice
How can a busy mother have time to become an expert in the Word of God? How can a busy father have time to search and compare Scripture after Scripture? How can a teen or college student find the time, and enough leftover mental ability to plunge into Bible study after a day or week of school books? How can a young child understand these Biblical truths that are far beyond the comprehension of adults?
"If I have to be a walking concordance and know all the fine points of systematic theology, how can I ever have a Godly life, and experience Christian maturity? If those are the criteria for Biblical maturity, who can achieve such a status besides the Bible Answer Man?"
I'm sure none of you have ever had any of those questions, but I have. Stick with me for the next few lessons, and I think you will have the answer to all of those questions and many more. If you will stay with me, then the question will become, "Are you willing to do what is needed to become part of the solution? We are ever so anxious to know the answers to difficult Biblical questions. Too often we are slow to put into practice the solution that will bring reality to the answers.
Hebrews 5:12-14 For though by this time you ought to be teachers, you need someone to teach you again the first principles of the oracles of God; and you have come to need milk and not solid food. 13 For everyone who partakes only of milk is unskilled in the word of righteousness, for he is a babe. 14 But solid food belongs to those who are of full age, that is, those who by reason of use have their senses exercised to discern both good and evil.
Hebrews 6:1-2 Therefore, leaving the discussion of the elementary principles of Christ, let us go on to perfection, not laying again the foundation of repentance from dead works and of faith toward God, 2 of the doctrine of baptisms, of laying on of hands, of resurrection of the dead, and of eternal judgment.
Do I hear, "There you go again! There is no way, as busy as I am, I can become skilled in the Word of Righteousness."
One of the problems is that we are so sitcom oriented that we think a situation can be created, questions asked about it, and have the answers within 30 minutes with 12 minutes used for commercials!
If we believe that God is God, then first our focus should be to obey what we know He said. After we are living in obedience to what we know He said, then we can begin to concentrate on our personal questions.
Most of those questions will be answered in the process of our obedient walk with Him. Some questions may not be answered for years to come, and some will not be answered until we are at home in glory with Him. The object of the Christian walk is to obey what we know. After obedience, then search for what we do not know, with the purpose of obeying the answers found.
Please notice that a very important factor in this process of gaining skillfulness in the Word of Righteousness is that we become of "full age" in our spiritual maturity.
In Hebrews 5:12, the writer says these people should have been teaching what they knew. If a person is teaching a subject, then by that act, they are using that information in some manner. It isn't just stored away in some dark closet of the mind. The emphases is on the basics, or the "first principles". Because these people were not engaged in the process of using what they knew, they lost what they had gained!
Now instead of teaching and answering questions, they had to start the process over again and have someone teach them the very basics of the Word.
Many Christians are in this cycle of gaining, storing, and losing the basics, then being once again taught the basics. That is not a good procedure to follow if you really want to know the answers to questions about and beyond these basic principals.
Are you in this cycle of taking in, storing, losing, being re-taught?
If you are, you won't understand the solution, even if the Holy Spirit wrote it on the wall for you.
Use it or lose it!
1 Corinthians 14:26 How is it then, brethren? Whenever you come together, each of you has a psalm, has a teaching, has a tongue, has a revelation, has an interpretation. Let all things be done for edification.
I trust you got the point by just looking at the verse displayed in this manner. These believers were not super-multitasking computers, but they were to use what they had (even it was singular in nature). They were to use what they had for the benefit of the whole body, not for selfish ends. They may not have had all the psalms, all the teachings, all the tongues, all the revelations and all the interpretations, but each had at least one of these, and they were to live it and use it! Why would God give us more than we are willing to use?
You don't have to know the Bible from cover to cover, including the index and maps. However, you must be obeying (using) what you do have and know!
That is the way of proper Bible study, and the way to learn the answers to spiritual questions. Those at MBF know the fact that understanding a passage comes from seeing it in relationship to the whole. However some at MBF, including myself, do not always practice what we know and preach. God has never given a command in His Word, without providing the means to comply with that command.
Acts 6:1-7 Now in those days, when the number of the disciples was multiplying, there arose a murmuring against the Hebrews by the Hellenists, because their widows were neglected in the daily distribution. 2 Then the twelve summoned the multitude of the disciples and said, "It is not desirable that we should leave the word of God and serve tables. 3 "Therefore, brethren, seek out from among you seven men of good reputation, full of the Holy Spirit and wisdom, whom we may appoint over this business; 4 "but we will give ourselves continually to prayer and to the ministry of the word." 5 And the saying pleased the whole multitude. And they chose Stephen, a man full of faith and the Holy Spirit, and Philip, Prochorus, Nicanor, Timon, Parmenas, and Nicolas, a proselyte from Antioch, 6 whom they set before the apostles; and when they had prayed, they laid hands on them. 7 And the word of God spread, and the number of the disciples multiplied greatly in Jerusalem, and a great many of the priests were obedient to the faith.
We must not study this passage in any detail, today. We will be back to it in future lessons. There are several important facts in this passage that shed a great deal of light on the subject of this lesson.
Fully Devoted to God
In this day and age, there are multiple Bible classes on every corner, on the radio, through books, and by means of the computer. The Christian community has an opportunity to learn about the Bible like never before. There are even Bible classes on the Greek and Hebrew languages held in churches. Some of these classes give a better grasp of the languages than teaching received from some Bible Schools.
There are those (I don't doubt their sincerity) who boldly claim that if you aren't in a Bible class at least three times a week, you are carnal. Some time ago, I heard a dear saint (I assume he was dear) on the radio proclaim that, "God should have equal time with your work!" This radio preacher went on to say, "If you are not willing to give as much time to prayer and study as you do to making a living, then your job has replaced God, and it might just be possible that you were never saved!"
He continued to say that if your job was such that it would not allow for equal time with God (in prayer and study), then you should quit immediately and find employment that would allow for this type of equality.
This fellow was very helpful. He had two things that would make such a plan work. There was a personally written book, which explained in detailed step by step manner how one should go about obtaining this equality. Also, just in case you couldn't find the type of employment which allowed such equality (and you couldn't), he had a personally developed, multilevel marketing program just for dedicated believers.
Several years later, I mentioned this account while speaking in a church back east. When I relate such stories, I change the account enough so it still brings out the point, without revealing the subject of the account.
During lunch after the service, the pastor asked if I had been referring to Rev. so-'n-so? I gave my stock answer to such questions, "It's just an illustration. I'll leave it at that."
This pastor went on to say that it reminded him of a radio evangelist he knew. This evangelist was, at that time, off the radio and out of the ministry. His book sales, and multilevel business were not enough to give him equality. Therefore, he divorced his wife (his biggest expense), left the ministry, and was now selling insurance.
I don't have a book for sale or a multilevel marketing program, but I do have some suggestions as to how you can keep your present job, and still have the time to become skillful in the Word of Righteousness and progress towards full age in Christ.
By the way, God does not want equal time with your job. God wants all your time, even while you're at your job.
This horrid non-Biblical teaching, that every believer is to be a full time researcher into the things of the Word, has become a prevalent myth, falsely referred to as a Biblical doctrine.
There was a time not so long ago, when the religious crowd taught that the common person could not know the Bible. This teaching went so far as to say that you really shouldn't even read the Bible, because to do so would only bring confusion. The common person was just to listen to the uncommon clergy, and the clergy would tell those people all they should know about the Bible.
If you look at the history of the Christian community, you will see that in many areas believers have vacillated from one extreme to the other. These matters of Bible study and Biblical understanding are some of those areas of radical and frequent changes have occurred, often during very short periods of time.
It reminds me of a story that I loved to hear, even after I became "big boy", when I was about 8 years or so old. I guess I liked this story because it was long, so I got to bed later. The next reason I liked it, was its ending. The conclusion was kind of bloody and gory. This story would not hold a candle to the prime-time TV of today, but in that day, it would have been rated at least PG-13.
My mother was a proper person, spelled with a capital "P" (in Old English type no less). Therefore such a story was not a regular in her repertoire. But I guess if you hate mice, there are room for exceptions. I'm not going to tell the whole story, just the conclusion. After all, the punch-line is the most important. I will have to give a little of the background so the conclusion will make sense.
The bed-time story
A community of mice in a very stately house, had been having an ongoing conversation. Really, it wasn't a conversation at all. It was an all out argument. This whole thing was about who had the best position in life (this is beginning to sound more like people than mice).
There were lots of mice. So I will only mention a few. There was the mouse who was on the shelf near the bread, and the mouse that was in the barrel of flour. Of course, there was the mouse near the hanging bacon in the cool room, and on and on it went throughout the whole house. Most of the good positions were, without a doubt, in the kitchen near the food.
One little mouse hadn't made up his mind as to where he thought the best position was. In fact, this little mouse never made up his mind about much of anything.
One day, as this mouse was running through the parlor, when the majestic Grandfather clock began to strike the hour of 12 with a "tick" and a "tock". From that moment on, the little mouse spent his spare time trying to find out how he could have a position inside that clock. That would be the best position in the entire house!
Finally after many tries, the little mouse did get into the clock and made his way to the big pendulum that swung back and forth. Then he called for all the other mice to come and see his new position. They came running! They all agreed that being in the clock and on the pendulum was a good position.
However, no one could really figure out which was the very best position. After all, when the little mouse swung far to the left on the "tick", he said it was the very best position. But then the pendulum would swing far to the right for the "tock", and the little mouse would scream out that he had found the very, very best position.
However, on the next swing, the little mouse lost his grip and slid down on to the side of the pendulum. The pendulum made its graceful swing back to the left, but instead of the lovely "tick", there was an awful thud!
As a matter of fact, it was more of squish than a thud, and the little mouse found his final position, all over the inside of the grandfather clock.
That is a little like what has happened in the Christian realm. The pendulum was way over on the "tock" side, and the church said, "You can't understand the Bible. There is no reason to even read it." Then pendulum began its journey towards the "tick" side that says, "Yes, you can understand the Bible. Every believer must study and know all the Bible on their own. Each believer should somehow spend hours every day, even years in research to know every jot and title."
Some of you have been on that pendulum, and you have felt that squeeze of conviction, as you have been admonished, "That if you really loved the Lord, you could find a way to earn a living, raise a family and still spend untold hours in private study."
Yet in reality, you found that it can't be accomplished, and still live. Therefore, many Christians just give up, and some even leave the faith. Some who stick with the church, live daily with the guilt of not giving themselves to intense study of the Word of God.
Some of you are there even as you read this. I have hope for you!
Bible Study Cards
We will finish the Bible study aspect of this subject in the next lessons. For the remainder of our time today, I want to introduce you to a method of study that will take you into the meat of the Word, but will not require hours of time that you do not have, nor a wall full of books that you will never read.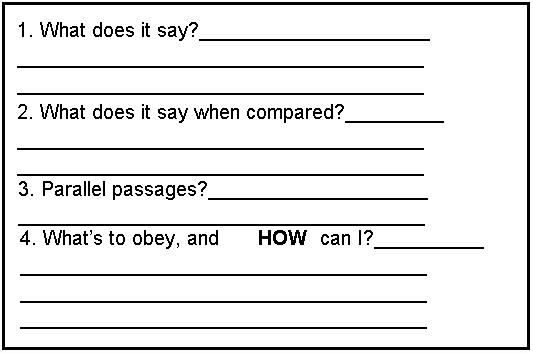 May I suggest that you take seven 3 x 5 file cards, one for each day of the week. Choose seven related passages of Scriptures, and write one passage on the front side of each of the seven cards.
On the back of the cards answer four questions. In a few words, write down what the passage says. Then compare that passage with its context and other passages throughout the Bible that come to mind. If through that comparison, there is information that might change the meaning of the passage, write that down.
Think of any parallel passages
Write down the references.
Then most importantly, write down what in the passage should be obeyed, and steps you can take to bring about that obedience in your own life.
The above suggestions might take a little homework, but most of it can be done during the commercials of Monday Night Football, or whatever you may watch. Then during downtime at work, stop lights, watching TV etc. you can glance at one of the cards and think through the passage, as well the information on the back of the card.
It doesn't sound like much. However if you do it faithfully, you will have studied the equivalent of a chapter or so each week. That's a chapter more than you were studying before. As you get the hang of this type of study, you will be able to increase the amount of material over time. It will surprise you how much free time there is in a day, If you learn to use it.
Please, don't steal time from your employer. Learn to use the time that would otherwise be wasted. Please don't read the cards while driving. This type of study cannot replace concentrated study time. However, if most of us were totally honest, there isn't much concentrated study time available on most days. Or any day for that matter. This method can both supplement concentrated study, as well as give study time to some who have not had any regular study time before.
Let me suggest seven passages for your first week of study. After that, you are on your own.
Romans 12:9-12 Let love be without hypocrisy. Abhor what is evil. Cling to what is good. 10 Be kindly affectionate to one another with brotherly love, in honor giving preference to one another; 11 not lagging in diligence, fervent in spirit, serving the Lord; 12 rejoicing in hope, patient in tribulation, continuing steadfastly in prayer;
Philippians 2:2-5 fulfill my joy by being like-minded, having the same love, being of one accord, of one mind. 3 Let nothing be done through selfish ambition or conceit, but in lowliness of mind let each esteem others better than himself. 4 Let each of you look out not only for his own interests, but also for the interests of others. 5 Let this mind be in you which was also in Christ Jesus,
Matthew 6:12-16 And forgive us our debts, As we forgive our debtors. 13 And do not lead us into temptation, but deliver us from the evil one. For Yours is the kingdom and the power and the glory forever. Amen. 14 For if you forgive men their trespasses, your heavenly Father will also forgive you. 15 "But if you do not forgive men their trespasses, neither will your Father forgive< your trespasses. 16 Moreover, when you fast, do not be like the hypocrites, with a sad countenance. For they disfigure their faces that they may appear to men to be fasting. Assuredly, I say to you, they have their reward.
Colossians 3:12-14 Therefore, as the elect of God, holy and beloved, put on tender mercies, kindness, humbleness of mind, meekness, longsuffering; 13 bearing with one another, and forgiving one another, if anyone has a complaint against another; even as Christ forgave you, so you also must do. 14 But above all these things put on love, which is the bond of perfection.
1 Peter 3:8-9 Finally, all of you be of one mind, having compassion for one another; love as brothers, be tenderhearted, be courteous; 9 not returning evil for evil or reviling for reviling, but on the contrary blessing, knowing that you were called to this, that you may inherit a blessing.
Proverbs 29:1 He who is often reproved, and hardens his neck, will suddenly be destroyed, and that without remedy.
1 Peter 1:6-8 In this you greatly rejoice, though now for a little while, if need be, you have been grieved by various trials, 7 that the genuineness of your faith, being much more precious than gold that perishes, though it is tested by fire, may be found to praise, honor, and glory at the revelation of Jesus Christ, 8 whom having not seen you love. Though now you do not see Him, yet believing, you rejoice with joy inexpressible and full of glory,
May you discover the great blessing of God in this new adventure!